Poor Rayley, she is in a house full of boys, she does everything theydo, she does work in the heat and the mud and the ick (although she hates it- but she hates to work period)-- She does dress crazy, but aside from school, we only go to town twice a week at most, so very seldom does she get the chance to show it off, and will have less chance once she no longer goes to school.
She wears jewerly, but would DIE to get her ears peirced, and really doesnt wear it around the house. There is no sense in it.
So, the other day she asked if she could have a pink stripe in her hair. She would LOVE to have long hair, but her hair is not thick enough. it just looks stringy or tangels easy.
She does like her hair cut, and asked for it to be like mine. and she wants it as big and pouffy as I can make it. But she still dreams of pony tails and braids. So I got some stuff and we put a stripe in it.
Today was water day at school, so I didnt fix it, But she was thrilled none the less.
She thinks she will get kicked out of school, I told her that it doesnt matter much, with 3 days left she wont miss anything. And its not like she is going back anyway. LOL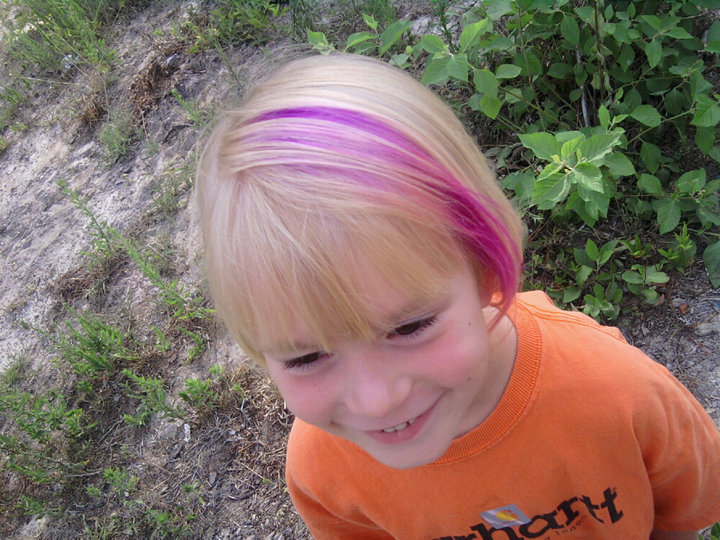 I had talked to her daddy before I did it, he didnt want to at first, and I told him that it was the kind that washes out (uhhhummm after about 4 or 5 weeks) and that it was fun and matched her personallity. he said "fine, but we aint fixin to start pink this week, and purple and green, and blue and allthat crap" I said that was fine, so with my crappy beautician skills, and her lack of patience, she got purple, fuscia, and pink all at one time ;-)
of course he also is constantly asking me "are you REALLY going to let her wear that to town??" 99% of the time, she wears a skirt, with tights, knee high boots and layered shirts. sometimes she wears knee high socks. But always wears shorts under her skirts, and is more covered then anyother kid you see. even when she wears shorts (which have to pass the brother test) she wears her ugg boots (knockoffs bought off season on clearence) or her laceup knee high converse tennis shoes.
I dont know why he wonders about her 'fashion sense' he is the one who bought me (as a suprise- I'd never seen them before) LIME green and Periwinkle cowboy boots for Christmas one year, and has driven hundreds of miles with me to find Hoover just 'the right' color cowboy boots, because he wants crazy colors (orange, blue, green, red) on top for his birthday.
I grew up in the 80's, and the 'craziest' I could be was wearing 2 differnt color converse shoes. and that was only if I was at my grandmothers. It embarressed my mom too much. I would have thought I DIED and went to Heaven if someone would let me put a stripe in my hair. Heck, I was only allowed to 'crimp' my hair on the weekends, and had to wash it out by monday morning. and when the 90's rolled around she HATED my bangs. I had reached the age of doing my own hair and made them as high as possible. teased my hair as big as possible, and crunched it and everything else.
Moderator





Number of posts

: 6471


Location

: Deep South East Texas


Honeycomb

: the abyss with keys that dont fit any locks


Registration date :

2008-03-10



I love it! Ceilidh has 2 clips that she got from our cousin (a hairdresser) that are pink and purple that she wears to school! DH won't let our cousin actually dye it tho, so the clips were a good compromise (I don't care, it will grow out).
In Need of a 12 Step Program





Number of posts

: 766


Age

: 40


Location

: Nova Scotia, Canada


Honeycomb

: Level 6, Sweet Bee


Registration date :

2008-04-01



I love it, Chelle. She looks so happy, too.

Caly had bright pink hair all over once, but she was on swim team so it faded after only about 2 or 3 weeks. Oh and Zaven used to get a mohawk every summer and a few months ago Zoe had me cut her hair so that it was shoulder length on one side and only the length of her bangs o the other. It hung in a diagonal and was so cute. Now it's just short but straight across. She wants to grow it out but she also hates to have it brushed so we'll see.

I figure that having your hair the way YOU like it is something everyone appreciates and if it's a disaster, it'll grow out and be gone in a few months.
Really Not Getting Much Done Around the House





Number of posts

: 9214


Location

: Central Kentucky


Honeycomb

: Level 6 ~ Sweet Bee


Registration date :

2008-03-10



I think doing something like this gives a child independence. They made a decision, parents went with it. It is a good relationship.
Really Not Getting Much Done Around the House





Number of posts

: 1470


Age

: 62


Location

: British Columbia


Honeycomb

: In Hold Mode - Level 6


Registration date :

2008-04-04



Thanks y'all

I fiqure too that your hair will grow out. its not like its a tatoo or anything. which I do let my kids wear, as long as they still look good. when they start to fade and peal off they have to remove them. And Rayley cant put them in 'sexy' places. no tramp stamps. LOL
Karen, I'm not sure I could handle the whole head- way too bright! LOL Rayley's faded some yesterday after water day at school. Ihad to redo the ends. of course it wasnt able to set up much either. I'm not sure, but I think instead of this 'wash out' stuff, I'm going to get some real red dye and do the strip, if we dont leave it on as long it will be pink.
I do feel sorry for the kid, she just doesnt have any hair. and its sooo hard to fix, I spend more time doing her hair every day than I do my own. And since she cant have the beautiful hair she always wants, this is a great alternative.
And to be honest, every one of my kids look exactly alike. Everyone thinks the boys are twins, they are always telling Rayley she looks JUST like the boys, which is really upsetting to her, she thinks they mean SHE looks like a boy. So anything to make her feel more girly is a great plus for her. and living like we do (animals, gardens, woods, ) she does more 'boy' things than girl things.
I am pretty strict on how my kids dress and look. The boys dont wear sandals, I cant stand it. (plus its not condusive to the way we live. ever walk in knee high pig shit in sandels? its not pretty) they dont have long hair, they wouldnt take care of it, and brett has 2 cowlicks on his crown, it has to be about 8 inches long before it will lay down. Plus, even when I do let it grow out, at their instistance, they gripe about having to wash it daily, and brush it a few times a day, AND about how hot they get playing all day outside. So its easier to keep it cut and they usually end up asking me to. the boys dont wear pants that show their underwear, or baggy pants. And they always have to wear socks. PERIOD. LOL
But the boys have also never expressed a desire for any of that. to them clothes are a nessesity, they wear them because they have to, and briars hurt when your wearing shorts. so they only wear them to bed. They do go shirtless alot.
Rayley doesnt have peirced ears, I wont let her get fake fingernails (yes, in Kinder kids have them) and wont pay for her to get a manacure weekly (yes, she has friends that do), she cant wear 'sexy' clothes, even in kinder. I am not raising britney spears. She can only wear flip flops if she is playing or going to the creek or lake, if she does wear them to town, she cant make that annoying noise. or take them off and hit anyone with them. and her toes have to be CLEAN. (or painted and look good, no pealing polish). if she wears a dress or skirt, she has to have one with shorts built in, or wear biker shorts under it.
BUT, I dont care if brett wears tenny shoes, as long as they are not tore up. I dont care that Hoover tucks his jeans in his boots and refuses to wear tennis shoes. I dont care if they have holes in their knees (as long as the pants are clean and look ironed) and I dont care how they do their short hair, (shave it off totally, shave the back leave the top, let the bangs grow a little or cut them real short, etc)
I dont care what combo's rayley wears, I let her wear jewerly, tutus with jeans, shorts and boots, as long as her hair looks fixed I'm good. I let her wear a pink skirt, green shirt, purple tights and her 'hooker' boots if she wants to. she goes to town in work out pants, a T shirt and her ugg boots.
I also know that now I have about 20 moms that are PISSED at me. cause their daughters want a stripe. LOL I was called and got messages all last night. They thought it was bad when their daughters wanted to dress like her. ROFLMAO! of course, one already has an appointment today for purple stripes at the beauty salon. LOL thats 75.00!! Igot a bottle of the stuff for 10.00 and it will do Rayley's hair about 50 times! LOL
Moderator





Number of posts

: 6471


Location

: Deep South East Texas


Honeycomb

: the abyss with keys that dont fit any locks


Registration date :

2008-03-10



Our only real rules are that the clothes aren't 'sexy' adult looking clothes. Zaven and Caly are teens now, but even so I make sure that they aren't wearing revealing stuff. I tell them that your clothes are telling things about you, and there's always some idiot out there who thinks that your short skirt or low cut top means that you said 'yes' to whatever he had in mind. So no revealing clothes, not underwear showing, no black leather dog collars, etc. They can pick their own clothes (with me having veto power) but they have to look at more than what's popular or cool. They have to try to see how they would look to a stranger and make sure that's the message they want to send.
Really Not Getting Much Done Around the House





Number of posts

: 9214


Location

: Central Kentucky


Honeycomb

: Level 6 ~ Sweet Bee


Registration date :

2008-03-10



exactly karen. I cant belive what I see some of my friends kids wearing. it blows my mind.
Moderator





Number of posts

: 6471


Location

: Deep South East Texas


Honeycomb

: the abyss with keys that dont fit any locks


Registration date :

2008-03-10



---
Permissions in this forum:
You
cannot
reply to topics in this forum